Team event & team building in Berlin
You are looking for a unique team event in Berlin? Our escape game tours are an exciting new mixture of Escape Room, scavenger hunt and sightseeing through Berlin.
We are the experts for your team event activity in Berlin
Our outdoor events through Berlin increase the level of cooperation and social skills, they promote self-confidence and create a unique community experience. This turns your employees into a team that then also works more efficiently.
Whether it's a team event, company outing or seminar: With our diversified concept, you'll experience Berlin from a new perspective – and ensure the best atmosphere!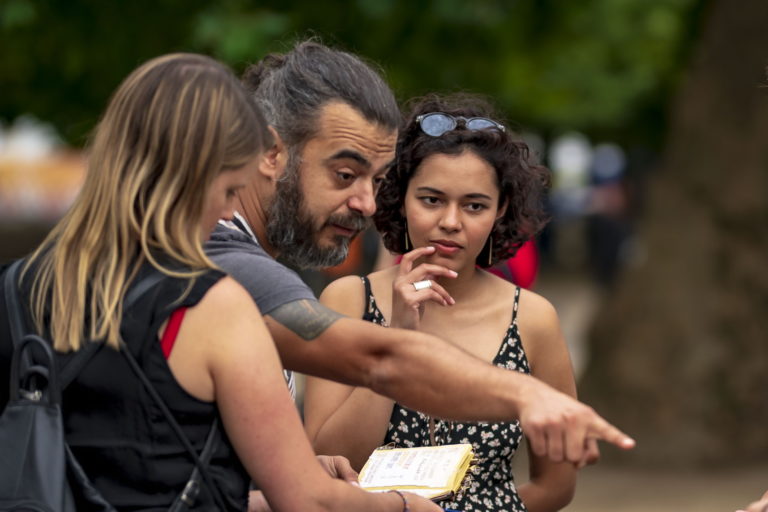 Teambuilding tour through Berlin
How it works
The game master welcomes you at our meeting point and hands you over the first mysterious item as well as a tablet. The tablet is your GPS to the puzzles and also a direct line to the game master, who will happily help you when you are stuck or have any questions.
As a team, you make your way from one stop to the next – and solve the tricky puzzles by combining the surprising objects with your surroundings. Through the tablet we see whether your solution is correct. If so, you move on to the next puzzle location.
On your way, you encounter well-known and lesser known areas of Berlin. At the end of the tour you get a summary of your adventure and say goodbye to your game master, hopefully with a smile on your face.
Send us a request for your team-building event
Basically, we recommend a maximum of 8 people per group, so that every participant will have the opportunity to contribute to the tricky puzzles. However, you can also play with up to 10 people in a single group.
For more people, you should split up into several groups. In order to prevent the teams from giving away the solutions to each other, they will start at different times – 30 minutes apart. The pure playing time will be around 2 hours for each group.
Team with up to 10 people
If you want to play in a single group, you can immediately book a free date in our booking calendar. There you will see all available time slots. The price per group with up to four players is 140€ (incl. VAT), for each additional person you pay 35€.
Teams with 11 and more players
For larger teams in several groups, we recommend the breakdown below.
You can of course deviate from this at your own discretion. In smaller groups, however, the puzzle fun is more intense and lasts a little longer. Just write us a short message. We will clarify your individual needs and check whether your desired date is available.
| number of people | groups | duration | price (incl. VAT) |
| --- | --- | --- | --- |
| up to 10 | 1 | approx. 2 h | 330 € |
| 11 – 20 | 2 | approx. 2,5 h | 660 € |
| 21 – 30 | 3 | approx. 3 h | 990 € |
| 30 – 40 | 4 | approx. 3,5 h | 1.320 € |
Impressions of your team building event with Maranja
This is what other adventurers say about our team building event:
Companies that also enjoyed our team events All you want to know about our team events